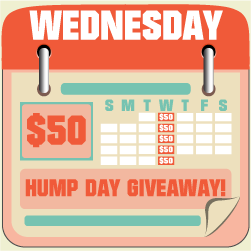 This week's event is all about Twitter Follow.  Once again, I have teamed up with 25 other bloggers to bring you this one day event.  Last week's
Facebook Page Likes on Hump Day $50 Giveaway
was such a hit.  Thank you all for joining!
Joining is as easy as last week.  I still advise you to login to your Twitter account so everything would be a breeze.  Then just fill up and complete the 2 mandatory entries and voila, all that's left is to do is click "Click here for Instructions", click Follow if you don't see a check mark yet (if there's a check mark, skip this step), click I did it, enter your name, email and Twitter username on Extra Info.  You just need to do that 25 more times and you then complete the task!
A note though: You can only join this on one blog/page.  There will be a maximum of 27 entries ONLY.  If you have more than 27, I reserve the right to delete duplicate or fraudulent entries. May I request that you use only one name and email address for quicker validation of entries..
Please make sure that you complete the first two questions because the rest will not open up for you if you don't. If you learned of the contest through this blog, please enter My Tots Exactly on the first entry.
Thank you very much and good luck. By joining this giveaway, you agree to the Terms and Conditions on the bottom of the form. Contest is open all-day Wednesday, from November 9th, 12:01am EST to November 9th,11:59pm EST (November 9, 12:01pm Philippine time to November 10, 11:59am Philippine time).
Happy Hump Day! Hope it's your lucky day to win $50.