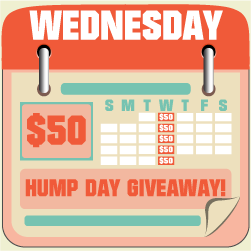 It's time for Hump Day $50 Giveaway and today's event is for RSS and Email Subscriptions. But wait, this week, you can win $50 TWICE since there are 2 groups holding the giveaway! There is a total of 52 wonderful blogs, which are all listed below so feel free to check them out after joining. There are 2 forms to enter below which will give you a chance to win $50 TWICE.
There are 2 types of entries this week. You can follow a blog though it's RSS link, which you can subscribe via a Reader or Email, or a link directly to their Email Subscription. For a short tutorial click here but be sure to come back to enter through this blog.
My Tots Exactly | Frugal Experiments | Money Saving Mindy | Life's Cheap Thrills | Our Travels | Extreme Personal Measures | Make Money Online | Topics on Earth | Exotic Philippines | Pinay Mom in Germany | Mom's Ups and Downs | Life as a WAHM | Ask Rapido | Certified Foodies | Diva Fabulosa | Teach Me 2 Save | When SAHMone Speaks | Wonderful Things In Life | Gen Walks | Healthful Choice | Sonya's Happenings | Retail Therapy Lounge | Mom's Online Magazine | Techie She | Shop Vintage Clothing | Nanay Blogs | The Food, the Places and the Badtrips | Penny Pincher Jenny | GEORYL | The Late Bloomer | MumWrites | My Bric-a-brac | Technology & Me | My Soul Speaks | Fashion Is My Passion | Life and Then Some | Living a Diabetic Life | Chubbymommyme | Mommy Coupon Swappers | Experience of a Super Mommy | Home Stuff 101 | Bookish | She Who Dies With the Most Shoes Wins | PinkZest | MommyandMatt | Building Carpenters | Our Food Trip | Hearts Content of a Mama | Chic Foodie | cny's extreme couponing | Coupon Queen of Texas | Fabulicious Diva
A note though: You can only join this on one blog/page PER GROUP. There will be a maximum of
33 entries ONLY
. If you have more than 33, I reserve the right to
delete duplicate or fraudulent entries
. May I request that you use only one name and email address for quicker validation of entries.
On the first mandatory entry, please do not forget to write My Tots Exactly referred you since it is a mandatory entry. You must complete the first 2 tasks before the others are enabled, and for all your other entries to count.
Thank you very much and good luck. By joining this giveaway, you agree to the Terms and Conditions on the bottom of the form. Contest is open all-day Wednesday, from January 25th, 12:01am EST to January 25th,11:59pm EST (January 25th, 1:01pm Philippine time to January 26th, 12:59pm Philippine time).
a Rafflecopter giveaway
a Rafflecopter giveaway